filed in apps on Mar.16, 2010
If you want to access Windows PC from iPhone/iPod Touch, this is the app for you! Windows 7 Professional/Enterprise/Ultimate are supported!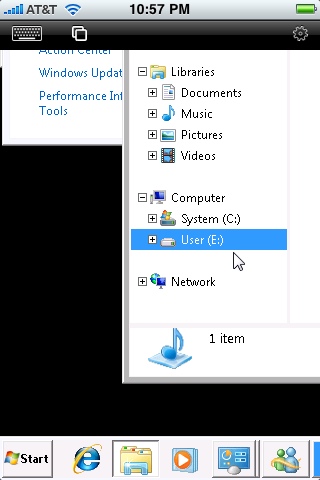 iRemoteDesktop is a Windows Remote Desktop (RDP) client for iPhone/iPod Touch. Using it you can access your Windows PC from anywhere at anytime.
Supported Platform:
- Windows XP Professional
- Windows Vista Business/Enterprise/Ultimate
- Windows 7 Professional/Enterprise/Ultimate
- Windows Server 2000/2003/2008
Important: The following systems are NOT supported:
- Windows XP Home
- Windows Vista Home Basic/Premium
- Windows 7 Home Starter/Basic/Premium
- Others not listed in "Supported Platform" section
Features:
- Multiple connections
- Portrait and landscape mode
- Various resolutions and colors support
- Support iPhone built-in VPN
- Easy to use UI